It's December already! Where did this year go? I bet all of you out there are scrambling to get ready for the holidays like me. I'm trying to get a lot designed right now too! We have some great goodies for you. First up is the STS December collab called Pine Cones and Holly Berries. It's a great holiday kit!
There's a set of quick pages that are made with this kit that you can get when you place a $10 order.
There's a new grab bag for December. It's packed full to great designer CU items and holiday items. There's a lot packed in this bag and it only costs $4.99!
There's also a whole new set of build a kits. The theme for this month was shopping. There are tons of great products for you to mix and match!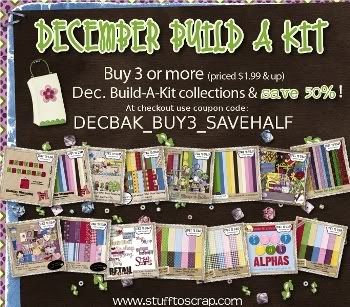 I'll show you the news from Brownie Scraps tomorrow.